Breakfast with an Expert w/Ben Harris
Thursday, February 25, 2021 (9:45 AM - 11:00 AM) (EST)
Description

Let us get together over coffee and breakfast and collaborate around the notion of inspirational leadership and organizations.
Are you feeling exhausted or fatigued due to the pace, complexity, and uncertainty of life and business today? You might be operating in a sense of endless waiting for the next normal to arrive or feeling a mental fog. Well, if you are feeling this way, and in a position that calls for you to lead or manage a team/department, or more importantly at the executive level with your organization – you need to aim higher than ever before when it comes to how you engage and inspire others. Humans need to be inspired and have purpose and clarity in life to experience well-being, and that often comes when a sense of inspiration is present. Moving from employee satisfaction to engagement, to ultimately inspiration is necessary for our industry to remain effective and relevant, while also producing high-performing teams, and organizations.
There will be an opportunity for collaboration with others in the group.
Attendees will:
Learn why inspiring yourself and others is a skill to be learned, and how essential it is to strive for an inspired workforce given the significant impact it has on organizational performance.
Understand what is occurring in our brains when there is a lack of motivation and inspiration and, how to spark more of what you want and need for your team and your organization.
Become aware of how your personal leadership and management efforts are impacting your performance and those with whom you interact.
"I am privileged to be a recipient and participant in Production Solutions' inspirational leadership culture led by Ben Harris. Ben is an insatiable student in the art of positive organizational culture. He puts people first and inspires others to lead daily. He understands the positive impacts and ripple effect such focus and intentions have on nonprofit organizations, our valued partners and ultimately, fundraising outcomes. You will undoubtedly gain valuable information and inspiration from this session. Don't miss out!"
- Meg Ferguson, Business Development Director, Production Solutions
---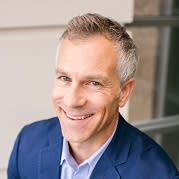 Ben Harris, President, Production Solutions
As the President of PS, Ben empowers the company's team members by providing leadership in the execution of overall company strategy and business development. Since joining the PS team in 1998, Ben has established an incredible reputation of high character, excellence, and continuous improvement. He emphasizes the importance of fostering a culture of engagement and collaboration to provide customized solutions for each client. Ultimately, Ben is responsible for ensuring all clients and agency partners receive a best-in-class service experience with every interaction.
Sponsors
Breakfast
Wiland
Zoom

Thursday, February 25, 2021 (9:45 AM - 11:00 AM) (EST)
Categories
Education - Seminars, Workshops, Tutorials