Breakfast with the Experts: Texting
Friday, October 29, 2021 (9:45 AM - 11:00 PM) (EDT)
Description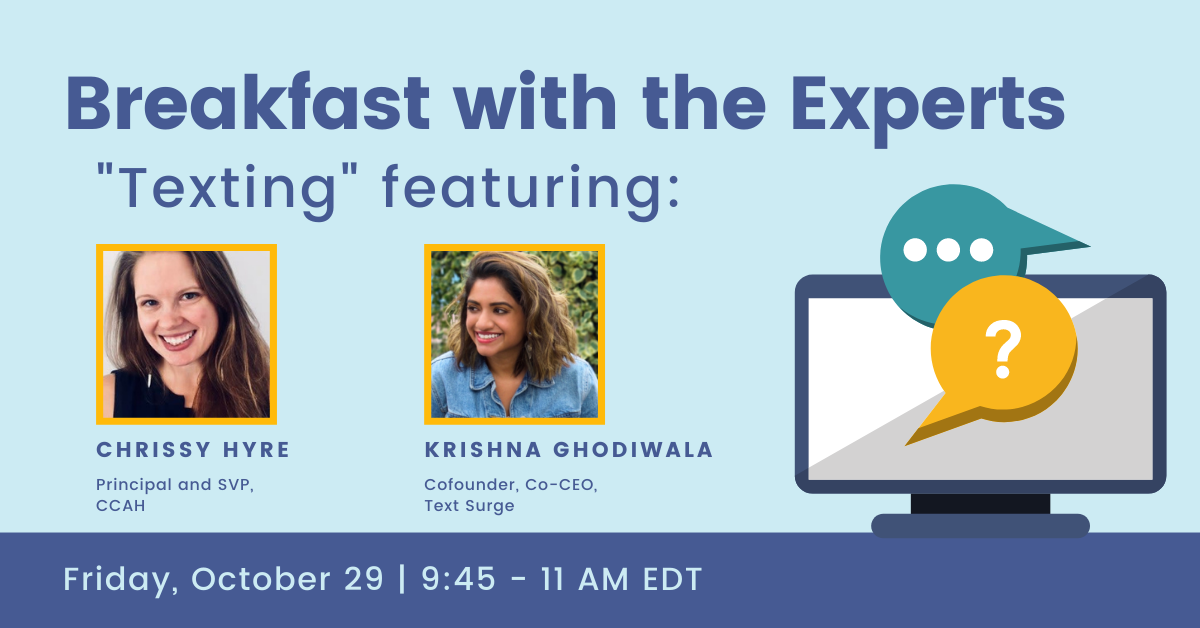 Using SMS aids with advocacy and fundraising through highly personalized real-time messages. Our speakers have used this tool to drive voters to the polls, encourage advocates to act and inspire supporters to give, all while building authentic relationships that can help bond them to the organization or cause for the long-haul!
Learn how to setup the foundations for a successful Peer-2-Peer (P2P) Texting campaign, everything from setting goals, selecting data, targeting, budgeting, message development (including A/B testing) to conversation management, monitoring of results, and reporting.
Our experts are here to help you understand how to best leverage this really very familiar tool (we all text right?) and maximize this most accessible of direct response channels.
---
Chrissy Hyre, Principal and Senior Vice President, CCAH
Throughout her career, Chrissy has been obsessed with driving innovative, impactful ways to communicate with donors and supporters. She has a particular passion for developing multichannel strategies designed to increase new donor recruitment, build midlevel programs, expand SMS fundraising and engagement, and grow monthly giving programs. Her wide breadth of experience in fundraising across channels has helped her pioneer new strategies to grow her clients' programs – and nothing thrills her more than testing something totally out of box and new… especially if it's successful.
Since (re)joining CCAH in 2009, she's been a key part of the team in both our Bay Area and DC offices. Her work has been instrumental in the fundraising success for many well-known Democratic political organizations and candidates and progressive advocacy organizations.
Chrissy graduated from Radford University and lives in Alexandria, VA (though a piece of her hillbilly heart will always be in West Virginia.)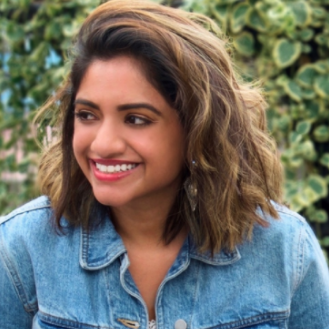 Krishna Ghodiwala, Co-Founder, Text Surge
Krishna Ghodiwala is a political professional with over ten years of experience in managing outreach and communications programs across diverse communities. Through her career, she worked for President Obama's reelection campaign in North Carolina, the 2013 Boston Mayoral race, and Mayor Muriel Bowser's Administration in Washington, DC. In her role in Mayor Bowser's administration, Krishna oversaw women's outreach and advocacy in the District, launching a number of notable programs and expanding the administration's partnership portfolio to include over 50 local and national organizations, including the White House Council on Women and Girls.
Krishna worked at Hustle during the 2018 Midterm Cycle, where she guided 21 State Democratic Parties and hundreds of campaigns up and down the ballot to implement large scale distributed texting operations. She went on to co-found Text Surge ahead of the 2020 Presidential election, a full service P2P texting firm that sent over 210 million messages and raised over $1 million for clients within its first year of business.
Virtual - Zoom Meeting

Friday, October 29, 2021 (9:45 AM - 11:00 PM) (EDT)
Categories
Education - Seminars, Workshops, Tutorials